Your local Bike Shop

Family Owned

Family Run

Selling fun since 1982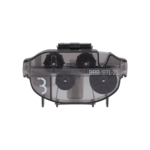 Your Local Bike Shop

Family Owned

Family Run

Selling Fun for 25 Years

Personalised Service

Unbeatable Prices
BBB Bright & Fresh Chain Cleaner
BBB has all the best tools & accessories for your bike and its maintenance. Take their Bright & Fresh Chain Cleaner (BTL-21) for instance. It's a modern chain-cleaning device which takes just minutes to brighten and freshen up your chain - and NO chain di
Description
BBB has all the best tools & accessories for your bike and its maintenance. Take their Bright & Fresh Chain Cleaner (BTL-21) for instance. It's a modern chain-cleaning device which takes just minutes to brighten and freshen up your chain - and NO chain disassembly required either!

Turns A Dirty Chore Into Fun
This clever little gadget is made of Nylon plastic and features an easy-grip handle for effortless management. Simply fill the reservoir with detergent, clip it onto your chain and turn to let the smooth, internal chain-guiding mechanism move your chain through the brushes and wash area. Once your chain is clean, all you do is remove and empty the reservoir and wipe your chain dry before it is freshly lubricated.
Features
• BBB Bright & Fresh Modern chain-cleaning tool (BTL-21)
• Fantastic results within minutes
• No chain disassembly required
• Firm-grip handle for effortless management
• Easy to use Brite N Fresh Chain Cleaner
• Smooth internal chain guide mechanism
• Made of Nylon plastic
• Replaceable brushes (sold separately)
• Flexible chain guide on the inside
• Instruction manual included

Specifications
• Dimensions: 195 x 180 x 40mm (W x H x D)
• Weight: 349g (incl. retail packaging)
• Country of Manufacture: Taiwan