Your local Bike Shop

Family Owned

Family Run

Selling fun since 1982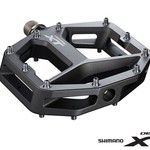 Your Local Bike Shop

Family Owned

Family Run

Selling Fun for 25 Years

Personalised Service

Unbeatable Prices
SHIMANO PEDALS PD-M8040 FLAT PLATFORM DEORE XT TRAIL for size 36-43
The XT M8040 Flat Pedals are Shimano's answer to the ever-popular trail riding and enduro market. The M8040's feature a slight concave platform and 10 pins on each side will keep your feet securely placed on the pedals when things get rowdy. For size 36-4
The XT M8040 Flat Pedals are Shimano's answer to the ever-popular trail riding and enduro market. The M8040's feature a slight concave platform and 10 pins on each side will keep your feet securely placed on the pedals when things get rowdy.
Chromoly axles and serviceable cup n cone bearings are used, so longevity is a sure thing! The body of the pedal is forged and machined from alloy to keep a good balance between strength and weight.
Shimano offer the M8040s in two different size platforms, which makes a lot of sense to ensure a good match between pedal and shoe size. In addition to different size platforms, the pedals also come with two different pin lengths so you can customise the pedal to suit you perfectly!
The Small/Medium pedals (36-44 shoe size) are 100x105mm and weigh in at 469g
The Medium/Large pedals (43-48 shoe size) are 110x115mm and weigh in at 514g