Your local Bike Shop

Family Owned

Family Run

Selling fun since 1982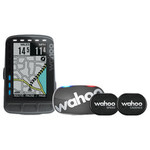 Your Local Bike Shop

Family Owned

Family Run

Selling Fun for 25 Years

Personalised Service

Unbeatable Prices
Wahoo ELEMNT ROAM GPS Bike Computer - Bundle (inc. TICKR Stealth)
Wahoo ELEMNT BOLT Bundle is a complete GPS cycling computer set up, including head unit, TICKR heart rate monitor, speed and cadence sensors.
Wahoo ELEMNT BOLT Bundle is a complete GPS cycling computer set up, including head unit, TICKR heart rate monitor, speed and cadence sensors. Wahoo ELEMNT BOLT features a patent pending design that integrates the bike computer and mount, resulting in a CFD tested, highly aerodynamic system built to be on the front of your bicycle. Not to mention, it's super easy to set-up and customize with the free companion app and features dual-band technology, wireless connection & uploads, pre-loaded global maps and routes, and so much more. The TICKR heart rate monitor, RPM Speed sensor and RPM Cadence sensor pair seamlessly with the ELEMNT, so that you can get live and accurate performance metrics.
Features
Over 50% less drag than leading competitor. In a 40km time trial traveling at a 21kph, the rider with a Wahoo ELEMNT BOLT will be 12.6 seconds faster than the rider using the leading GPS bike computer competitor.
Designed to maximize readability. If you slightly tilt the leading competitor bike computer to better read the screen, the air resistance increases significantly, thus slowing the rider down. Conversely, if you tilt the ELEMNT BOLT (not that you need to because of its curved design) the air resistance does not change or affect the overall performance.
Minimizes air resistance. When using the BOLT aero mount – included in the box – the bike computer becomes a 'system', saving approximately 1.1 watts vs. the leading GPS bike computer. This equates to >50% reduction required power to push this system through the air.
 
The free ELEMNT companion app uses the intuitive interface of your smartphone to customize your settings, configure workout pages and link ELEMNT BOLT to your favorite cycling apps and wireless sensors.
ELEMNT BOLT features programmable LED indicators that offer a new way to monitor performance and stay connected with nothing more than a glance.
Easy to access side buttons allow you to zoom in and out of curated data fields with just a touch.
100% WIRELESS ELEMNT bike computers are the only truly wireless bike computers, meaning the days of finding time to tether up to your laptop to sync ride data, download maps or update your computer's software are over.
With the ability to locate friends out riding in real time and receive emails, texts and phone alerts, ELEMNT BOLT makes it easy to stay in touch when you're out of reach.
Take me anywhere navigation. Whereever you want to go, ELEMNT BOLT can take you there! Just open the companion app at any point in your ride and start typing either the address or name of your destination. The companion app will then generate a cycling optimized route and send it to your ELEMNT BOLT, complete with turn-by-turn pop ups. Put your phone away and ride! Now ELEMNT BOLT can literally take you anywhere!
Turn by Turn Navigation. Get Turn-By-Turn prompts with the Wahoo "Take Me Anywhere" feature on the Wahoo Companion app and with all Komoot and Ride With GPS Routes that are on your ELEMNT BOLT. Routes automatically download to the ELEMNT BOLT with just a click.
Strava Live Segments. ELEMNT BOLT fully integrates with Strava Live Segments to give you accurate progress status and the Final Push to beat your goals.
ELEMNT BOLT pairs with both KICKR and KICKR SNAP to allow you to take the suffering inside and completely control the smart trainers trusted by world champions like three-time Tour de France winners, Team Sky.
In The Box
ELEMNT BOLT Unit; Integrated Out-front Mount, Stem Mount, Quick Start Guide
TICKR Heart Rate Monitor; Adjustable soft strap, CR 2032 Battery (installed), Quick Start Guide, Important Product Info Guide
RPM Speed; CR 2032 Battery (installed), Hub Mounting Option, Quick Start Guide, Important Product Info Guide
RPM Cadence; CR 2032 Battery (installed), Rubber Mounting Option, Zipties, Shoe Mount Option, 3M double sided tape, Quick Start Guide, Important Product Info Guide