Your local Bike Shop

Family Owned

Family Run

Selling fun since 1982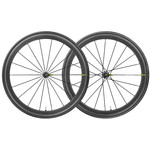 Your Local Bike Shop

Family Owned

Family Run

Selling Fun for 25 Years

Personalised Service

Unbeatable Prices
Mavic Cosmic Pro Carbon UST Wheelset
The allure of carbon combined with proven Cosmic performance—fast, lightweight and always reliable.
The allure of carbon combined with proven Cosmic performance—fast, lightweight and always reliable.
Lightweight, aero and efficient.
40mm NACA-inspired rim shape minimizes drag for added speed.
Reduced inertia of the lightweight rim delivers instant acceleration.
Mavic Road Tubeless UST improves rolling efficiency.
Versatile performance for all road riding conditions.
Minimal drag, low inertia and high lateral stiffness makes it fast and efficient on all types terrain, from the flats to mountain climbs.
Best braking efficiency of carbon clinchers thanks to iTgMAX.
Better tire grip and control with reduced risk of flats.
Best-in-class tire grip thanks to UST and 11Storm compound.
High flat protection thanks to UST and easy on-the-road tire repair.
The Cosmic Pro Carbon has traditionally been favored primarily for fast, flat races, but recent improvements have boosted this wheel's versatility.
Now it delivers incredible all-rounder performance at a price that can't be beat. Engineered with Mavic UST technology, the Cosmic Pro Carbon UST offers all the benefits of tubeless, including less rolling resistance, a smoother ride quality and a reduced risk of flats.
The rims are made using our iTgMax process, which not only minimizes weight, but also improves braking performance and reliability, especially on long, steep descents.
The 40mm deep rims are NACA compliant for low drag and excellent crosswind stability, and their lighter weight results in reduced inertia for explosive acceleration and climbing efficiency.
The Cosmic Pro Carbon UST is completed with 25mm Yksion Pro UST tires for maximum rolling efficiency, grip and a smooth, comfortable ride.
Compatibility
Rear axle: Quick Release only
Front axle: Quick Release only
Freewheel: Shimano/Sram, convertible to Campagnolo with optional driver body
Compatible Adapters and freewheel bodies
Weight
Pair without tyre: 1650 grams
Front without tyre: 745 grams
Rear without tyre: 905 grams
Hubs
Front and rear bodies: aluminum
Axle material: steel
Sealed cartridge bearings (QRM)
Freewheel: FTS-L steel
Intended Use
Max. Pressure: see indication on wheel and tyre. If they differ, use the lowest of the 2
For a longer longevity of the wheel, Mavic recommends that the total weight supported by the wheels don't exceed 120kg, bike included
ASTM CATEGORY 1 : road only
Recommended tyre sizes: 25 to 32 mm
Rims
ETRTO size: 622x19TC Road
Use with Mavic Tubeless Tape
Material: 3K carbon fibers
Brake track: carbon with iTgMAX technology
Drilling: traditional
Internal width: 19 mm
Height: 40 mm
Valve hole diameter: 6.5 mm
Tyre: UST Tubeless and tubetype
Spokes
Nipples: steel, ABS
Shape: straight pull, flat, double butted
Material: steel
Lacing: radial front and rear non-drive side, crossed 2 rear drive side
Count: front 18, rear 20
Tyre
Front and Rear Tread: 11 Storm single compound
Yksion Pro UST
UST Tubeless Ready
Dimension: 25-622 (700x25c)
Breaker: Polyamide, from bead to bead
Casing: 127 TPI
Delivered with
Tyre sealant syringe
Mavic tyre sealant (rear wheel)
Tubeless rim tape
BR301 quick releases
Carbon brake pads
UST valve and accessories
User guide
UST Tubeless Ready
Traction, control and lightweight
The UST concept improves traction, control and comfort while reducing inertia and flats.
The 'tubeless ready' construction results in a lighter tyre for improved performance.
iTgMAX
Integral Glass Transition Temperature
iTgMAX consists in an inner rim bed finished with multiple layers of seamless carbon fiber to achieve a unique one-piece rim contour without cutting any fibers. The brake track is then finished with a laser machining to ensure the best braking efficiency
QRM
Qualité de Roulements Mavic
Mavic only uses high quality sealed cartridge bearings. On QRM wheels, they feature double sealing (2RS or LLU) together with tight C3 internal clearance.
FTS-L
Force Transfer System Light
Reinforcement of key transmission components: the contact area between the pawl and the hub body is reinforced by 2 stainless steel inserts, which allows the use of a 100% aluminum hub body.