Your local Bike Shop

Family Owned

Family Run

Selling fun since 1982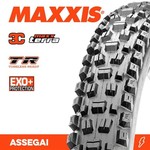 Your Local Bike Shop

Family Owned

Family Run

Selling Fun for 25 Years

Personalised Service

Unbeatable Prices
Maxxis Tyre Assegai 3CT/EXO+/TR Black 29 x 2.50WT
Maxxis has been the go to tyre for bike riders around the world for generations of cyclists. Maxxis make a tyre for every occasion, from the toughest, gnarliest, high volume DownHill tyre through to trail and gravel tyres all the way to the sleekest, fast
Description
Maxxis Bicycle Tyres for Every Occasion
Maxxis has been the go to tyre for bike riders around the world for generations of cyclists. Maxxis make a tyre for every occasion, from the toughest, gnarliest, high volume DownHill tyre through to trail and gravel tyres all the way to the sleekest, fastest road racing tyres.

Maxxis, Leaders of the Bunch
Maxxis' commitment, since its founding in 1967, has seen them at the forefront of technological development, determined to offer the best tyres to cyclists of all disciplines. Maxxis lead the bunch in innovation, consulting with the world's champion riders to make sure their tyres measure up to the very toughest conditions and meet the very highest performance standards

Maxxis, Confidence Inspiring Tyres
Advanced R&D, technologies and equipment are used in the production process to bring the winningest tyres, the safest tyres, confidence inspiring tyres with the aim to delight and inspire every bike rider in the cycling community.

World Cup Champion Greg Minnaar's signature Tyre
The Maxxis Assegai tyre is named after the iron-tipped spear used by the Zulu people of South Africa. Greg Minnaar, a native of South Africa, thought it was a fitting name for a tyre ready to do battle on the mountain. The tall knobs punch through dust and loam to find traction, but also offer support and confidence on wet roots and rocks. While other tyres excel only in certain conditions, the new Maxxis Assegai is built to go fast everywhere.

EXO Protection
An extremely cut-resistant and abrasion-resistant material added to the sidewalls of select mountain tyres. This densely woven fabric is also lightweight and highly flexible, ensuring that the performance of the tyre remains unaffected. Choose EXO Protection for exceptionally rocky, treacherous trails where the chance of sidewall cuts and abrasions is high.

Tubeless Ready
Tubeless tyres provide the rider with many benefits: the ability to run lower air pressures, which improves traction; lower rolling resistance when compared to a tube-type tyre; and less chance of flatting since there is no tube.
Features
Specs
• Size: 29X2.50"
• ETRTO: 63-622
• TPI: 60
• Bead: FOLDABLE
• Weight (g): 1220
• Compound: DUAL
• Max PSI: 50
• Tech: EXO/TR
• Colour: Black
• Application: MOUNTAIN
• Dual-ply downhill casing
• Tubeless compatible
• Wide Trail casing optimized for 30-35mm rims

Rim not included