Your local Bike Shop

Family Owned

Family Run

Selling fun since 1982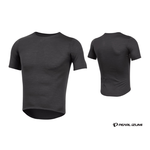 Your Local Bike Shop

Family Owned

Family Run

Selling Fun for 25 Years

Personalised Service

Unbeatable Prices
PEARL IZUMI BASELAYER - MERINO - PHANTOM
Using a comfortable combination of Transfer Merino wool and technical Recycled Polyester fibres this short sleeve PEARL IZUMI MERINO WOOL BASE LAYER is fit for wearing during on, or off, the bike activities. It uses a set-in sleeve design for a versatile
Short Sleeve Base Layer Delivering Comfort And Warmth
Using a comfortable combination of Transfer Merino wool and technical Recycled Polyester fibres this short sleeve PEARL IZUMI MERINO WOOL BASE LAYER is fit for wearing during on, or off, the bike activities. It uses a set-in sleeve design for a versatile form-following fit to make layering easy and comfort assured.
Fabrics Chosen For Superior Moisture Transfer And Thermal Regulation
Soft against the skin this PEARL IZUMI MERINO WOOL BASE LAYER employs a unique plated fabric construction which places Polyester next to the skin and Transfer Merino Wool on the exterior. The responsibly sourced 18.5-micron Merino wool brings comfort, odour control and natural body temperature management to the table and works in conjunction with Recycled Repreve XS Polyester for sustainable technical performance.
A Cycling Undershirt Made From Recycled Plastic Water Bottles
In the age of recycle awareness, it's great to see that the high-performance, moisture-wicking REPREVE Recycled Polyester technical fabric used in this base layer is made with yarns created from recycled plastic water bottles. This will certainly make a great talking point at rest breaks.
• Pearl Izumi short sleeve wool base layer
• Combines wool and recycled polyester
• Transfer Merino fabric
• Recycled Repreve® XS Polyester
• Polyester fibres made from recycled plastic water bottles
• Ideal for on, or off, the bike activities
• High-performance moisture-wicking fibres
• Wool offers natural odour control
• Superior thermal regulation
• Set-in sleeve construction for easy layering and versatility
Specifications
• PI Model: Merino Base Layer
• Colour Name: Phantom (Black)
• Sleeve Length: Short
• Gender: Male (Adult)
• Product Code: 11121923
• Fit Style: Form Fit (snug to body, engages stretch)
• Fabric Blend: 18.5-micron Merino Wool/Repreve Recycled Polyester