Your local Bike Shop

Family Owned

Family Run

Selling fun since 1982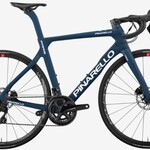 Your Local Bike Shop

Family Owned

Family Run

Selling Fun for 25 Years

Personalised Service

Unbeatable Prices
Pinarello Paris w/105 R7000 and Fulcrum Racing 6 DB BLUE STEEL (A102)
Paris is a bicycle developed and created to ensure maximum comfort without forgetting the racing spirit of every Pinarello bicycle.
Paris is a bicycle developed and created to ensure maximum comfort without forgetting the racing spirit of every Pinarello bicycle.
The biggest difference from Dogma and Prince is in fact the Reach and Stack: a real balance found by our PinaLab technicians about a geometric solution that lengthens the bike and makes it more comfortable to ride, without losing the reactivity, a key feature for a road bike.
Thanks to its particular characteristics, Paris reveals his distinctive focus on the long distance keeping the Pinarello DNA.
The Paris has been designed for endurance use with a more comfortable geometry that embraces a wider audience. However, much of the technology from the Dogma F12 is also found on this bicycle, and that's why we consider it the perfect entry bike to fall in love with the Pinarello brand.
Frame Specs
Sizes | 43, 46, 49, 51.5, 53, 54.5, 56, 58. 60
Colors | (A102) Blue Steel
Frame | Carbon T600 UD, Asymmetric frame, Italian thread BB, Drop In bearing system ( 1" 1/8 up; 1" 1/2 down), Think 2, Internal cable routing, Dedicated FSC Frontal seat clamp, Flatback profiles, E-link, Front Axle Ø12 x 100 mm Shimano®, Max Tyre 700x30mm WAM (Width as Measured), UCI approved
Fork | Dedicated Onda fork
Components
Handlebar | Most Jaguar XA Bar 42cm O/O
Stem | Most Tiger Alu Stem 100mm
Saddle | Most Lynx Alloy Rail Saddle
Pedals | Not Included
Drivetrain
Brakes | RAD SYSTEM disc brakes, Disc Flat Mount (max Ø160 mm), Rear Axle Ø12 x 142 mm Shimano®
Wheels
Wheelset | Fulcrum Racing 6 DB Wheelset
Tyres | Vittoria Zaffiro Tyres 28mm
About Pinarello
Cicli Pinarello S.R.L. is one of the most famous and winning bike manufacturers in the world. Founded in Treviso (Italy) in 1952 by Giovanni (Nani) Pinarello, it produces high end racing bikes. This name, Pinarello, recalls legendary victories of the greatest cyclists of all times: since 1975, the first victory in Giro d'Italia with Fausto Bertoglio, Pinarello has won all the most important races in the world, including Olympics, World Championships and Tour de France. 1.2 Track Experience Over the Years For many years Pinarello has developed track bikes to cover different needs of riders. Starting from the Espada, used by Miguel Indurain in 1996 for hour record, passing through Bolide HR, the weapon developed for Bradley Wiggins's Hour record in 2015, since the recent wins of Elia Viviani with the Maat (Omnium gold medal at the 2016 Olympics) and Francesco Ganna with the Bolide HR again (gold medal in Individual Pursuit and Team Pursuit during Track World Cup). All of these projects have helped Pinarello to grow over time and improve its products, making them the best performing and desirable bicycles on the market. Having created many winning bicycles in recent cycling history, Pinarello was able to draw on a very broad technical know-how to develop this new project. In fact, the Maat is the outcome of an optimization of the frame coming from the expertise done with - deep analysis of track aerodynamics done with Bolide HR - stiffness and power transmission analysis done on all of Pinarello's road bikes - accurate investigation of rider needs to enhance their riding experience.