Your local Bike Shop

Family Owned

Family Run

Selling fun since 1982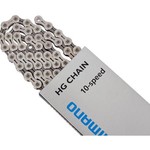 Your Local Bike Shop

Family Owned

Family Run

Selling Fun for 25 Years

Personalised Service

Unbeatable Prices
CHAIN ULTEGRA 6700 SERIES CN-6701
The reworked Ultegra CN-6701 chain by Shimano offers optimized outer plates and the same durability and weight (in comparison to CN-6700) with better performance on the road
Reworked for road racing: the Ultegra CN-6701 chain by Shimano

The reworked Ultegra CN-6701 chain by Shimano offers optimized outer plates and the same durability and weight (in comparison to CN-6700) with better performance on the road.


Specifications:
Application: Road
Gearing: 10-speed


Technical Information:
Links: 114
Closure Type: double ring chain pin (ampoule type)
Pin Type: chromed, solid
Directional: yes
Recommended Groupsets: Dura Ace 7900, Ultegra 6700, 105 5700
Material: steel


Features:
- super narrow HG 10-speed chain for all Shimano 2x10-speed road drivetrains
- optimized outer plates (zinc-aluminium alloy) for smooth shifting and reduced chance of chain suck
- optimized inner plates (grey) for smooth rear shifting
- less force required when shifting
- smooth shifting even under load
- perforated inner plates to save weight
- improved construction for better shifting
- performance indicator: advanced (level 2 out of 3)


Technology:
HG
The weight of the HG (Hyperglide) chain is reduced thanks to the perforated inner plates. The inner and outer plate, designed for better contact with gear teeth, allows smooth shifting even under high load conditions. In addition. The chain has achieved a pedaling efficiency of 0.6% higher. Made for HG cassettes. 

Directional 
This chain has unique, asymmetrical design. The specially formed plates optimize the interaction between chain and cog as well as smoother shifting under load. The inner side is optimized for rear HG (Hyperglide) shifts and ensures fast and precise shifting. The outer sided is optimized for chainring shifts. The sides of the chain are marked to ensure that the chain is correctly assembled. The side with the markings is the outer side. 
Warning: The high shifting performance is achieved only through proper assembly. If the chain is assembled incorrectly, the chain may fall which may lead to serious injury.


Factory Number:
I-CN6701114


Contents:
- 1 x Shimano CN-6701 Ultegra chain
- connecting pin included


Gewicht:
-silver / 10-speed : 267 g