Your local Bike Shop

Family Owned

Family Run

Selling fun since 1982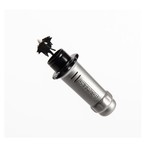 Your Local Bike Shop

Family Owned

Family Run

Selling Fun for 25 Years

Personalised Service

Unbeatable Prices
Stan's NoTubes DART Tool
The DART is Stan's solution to fix damaged tyres faster, easier, and better than existing plug tools. Traditional tyre plugs try to wedge rubber strips into a puncture and these can be pretty hit and miss, especially with MTB type punctures which are norm
Description
The DART is Stan's solution to fix damaged tyres faster, easier, and better than existing plug tools. Traditional tyre plugs try to wedge rubber strips into a puncture and these can be pretty hit and miss, especially with MTB type punctures which are normally more of a tear or a cut rather than a clean hole. The DART (dual action repair for tubeless) quickly forms a permanent airtight bond via a chemical reaction with your Stan's sealant. The DART works in two ways by combining this chemical reaction with a mechanical fill created by inserting a piece of material into the puncture to provide you with the best solution for sealing slices and large punctures in tubeless mountain, road, and gravel bike tyres.

Who's this item for: Riders looking for the best solution for sealing the larger, more ragged types of punctures that MTBers tend to get in their tyres.

Compatibility: Works with mountain, road, and gravel bike tires but requires Stans or another latex-based sealant to activate properly.

How does it work? With a DART loaded in the tool simply jab it into the puncture and withdraw the tool, being careful to ensure that the DART remains in place. Then rotate the wheel so that the puncture is at the bottom so the sealant can pool and start to create the bond with the DART. There is no need to trim off the excess, just ride on and it will naturally wear down. The head allows you to have two DARTs loaded for quick deployment for larger slices or snakebite punctures which can often create multiple holes. See the video below for more info!

Materials: The tool itself is made out of a lightweight and ultrastrong moulded plastic. The rod that presses DARTs into punctures is made of ultralight, corrosion-resistant carbon. The tip of the DARTs themselves is barbed plastic to anchor it on the tyre without damaging your rim or rim strips. The material on the DART is designed to chemically react with latex sealant to form a strong bond.

What's included: Comes loaded with 2 darts. 5 pack refills available via the link below. 

Pros: Able to quickly seal larger holes and slices by creating a permanent chemical bond between the DART, sealant, and tyre.