Your local Bike Shop

Family Owned

Family Run

Selling fun since 1982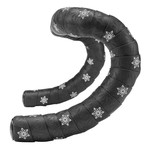 Your Local Bike Shop

Family Owned

Family Run

Selling Fun for 25 Years

Personalised Service

Unbeatable Prices
Supacaz Super Sticky Kush Bar Tape Galaxy White
The middle layer consists of Kush Foam, an exclusive compound which maximises vibration isolation via the thinnest amount of foam. Its shock-absorbing qualities drastically improve bike handling on the corners, downhill, and in rough conditions. Supacaz S
Supacaz Black On White Galaxy Bar Tape
Life's too short to live a boring existence, so throw some personality onto your handlebars and let the rest of the world see the real you. And all you need is a bit of daring, an element of dash, a box of Supacaz Super Sticky Kush Galaxy Limited Edition Bar Tape.

Embossed Frost Print Tile Pattern
Outwardly, the tape is embossed with the beloved Supacaz Frost Print Tile Pattern upon super-bright white tape with scattered black Frost Prints along its length. This not only gives the tape a distinctively stylish appearance but also wicks away moisture and maximizes grip. Black Star Plugz (bar end plugs) add a finishing touch to the package which is certain to ignite the flame of an inner excitement you haven't felt since you were a kid.

Shock-Absorbing Kush Foam
The middle layer consists of Kush Foam, an exclusive compound which maximises vibration isolation via the thinnest amount of foam. Its shock-absorbing qualities drastically improve bike handling on the corners, downhill, and in rough conditions. Supacaz Super Sticky Kush Bar Tape also has a high level of grip which makes riding without gloves very easy. Even when your hands are dusty or sweaty, it won't slip or let you down.
Features
• Supacaz Super Sticky Kush Galaxy Bar Tape (Limited Edition)
• World Champion, Peter Sagan's bar tape of choice
• Superior supple-hand feel with long lasting performance
• White tape with black accents and end plugs
• Provides unparalleled comfort, control and longevity
• Tacky, anti-slip properties for super-grip
• Lasts 5 times longer than traditional bar tape
• Remains tacky in wet conditions
• Highly resistant to UV rays, climate, and sweat
• Shock-absorbing qualities drastically improve bike handling
• Embossed Supercaz pattern wicks moisture & maximises grip
• So grippy you can ride with or without gloves
• Easy Clean - it's the only truly cleanable high-end tape around
• Nano-thin adhesive bottom layer delivers ultimate stick without added weight

Bar Tape Specifications
• Material: PolyUrethane (PU)
• Tape Colour: White/Black
• Tape Width: 30mm
• Tape Thickness: 1.1mm
• Tape Length: Enough for right and left bars
• Weight: 45g (1 x Roll Tape with Star Plug)
• Weight: 31g (1 x Roll Tape without end plug)
• Designed: in California | Made in Taiwan
• Suits: Road Race | Time Trial | Cyclo Cross | Urban Commute | Touring | MTB