Your local Bike Shop

Family Owned

Family Run

Selling fun since 1982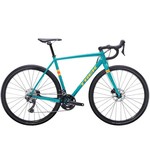 Your Local Bike Shop

Family Owned

Family Run

Selling Fun for 25 Years

Personalised Service

Unbeatable Prices
Trek Checkpoint ALR 5 (2021) Teal
Trek's complete line of gravel bikes, Checkpoint, promises capability, versatility, and serious fun
Introducing the all new Checkpoint range: the dedicated gravel bike
19/02/2020
Trek's complete line of gravel bikes, Checkpoint, promises capability, versatility, and serious fun
Checkpoint is the dedicated gravel platform your customers have been asking for, and it's built with quality parts that will hold up for long, rugged miles on pavement, dirt, and even the most treacherous gravel roads. 
So, what sets this bike apart from the competition? It comes ready to roll with a wealth of adventure-ready features aimed at the rapidly-growing gravel scene, like adjustable Stranglehold dropouts, massive tire clearance, and extra mounts that make it super versatile and easy to customize.
Fast and fun
Checkpoint is available in three different carbon and aluminium models to match the needs of every rider—SL 6, SL 5 and ALR 5.

The all new range of Checkpoint models boast Shimano GRX groupsets, and all models come equipped with 700 x 40 Bontrager GR1 gravel tires, tubeless-ready Bontrager wheels, and flat-mount disc brakes. The most performance-oriented riders will be pleased to hear that SL 6 comes stock with Bontrager's Paradigm Comp 25 Disc wheels paired with Shimano RT800 Ice-Tech FREEZA rotors and finned brake pads for lightweight durability and extra stopping power.

Geometry is comfortable for the long haul and rough roads, but aggressive enough to provide the speed and ride-feel most gravel riders are looking for. Compared to Boone, Checkpoint features a nearly identical reach, slightly taller stack, and lower bottom bracket height. Chainstay length and wheelbase are the same. The lower bottom bracket provides the additional stability riders look for on long grinds, while maintaining a tight wheelbase, long reach, and relatively low stack height keeps Checkpoint fast and manoeuvrable.
Checkpoint's frame materials and construction also contribute to its uber-quick ride feel. SL models are built from 500 Series OCLV Carbon, and ALR models feature Trek's lightweight 300 Series Alpha Aluminum. 
Capable, trustworthy tech
Carbon (SL) models feature the same Rear IsoSpeed decoupler found on Domane for additional comfort, along with Control Freak internal cable routing, which allows for easy conversion to 1x or electronic shifting and keeps everything protected from the inevitable mud-and-dirt. SL models also include a carbon seatmast cap, Carbon Armor to protect the frame against debris, and 12mm front and rear thru axles.


Easy customization
Stranglehold dropouts allow the rider to adjust the bike's geometry and gearing based on the requirements of the day's ride. For example, the longest setting makes the bike more stable for longer rides and bikepacking. The dropouts also allow for quick, easy conversion to singlespeed.
The stock 40mm tires hit the sweet-spot for a lot of riders, but running other widths quickly changes Checkpoint's identity. The rider hitting crushed limestone trails to link pavement will love firm and fast-rolling 28mm slicks, while the dedicated dirt road explorer can go up to 45mm to tackle the ruttiest, rockiest routes.
Checkpoint is covered in mounts. Mounts on the seat tube and down tube allow riders to fit 3 bottles in the main triangle, or position two bottles low while leaving room for a frame bag. There's also room for one more bottle under the down tube. Lowrider fork mounts will take a rack & bags. Rear rack mounts give more room for cargo, and hidden fender mounts keep the ride clean in even the worst weather. SL models include a top tube mount to easily attach an easy-to-reach bag for ride essentials.