Your local Bike Shop

Family Owned

Family Run

Selling fun since 1982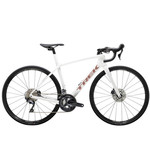 Your Local Bike Shop

Family Owned

Family Run

Selling Fun for 25 Years

Personalised Service

Unbeatable Prices
Trek Domane SL 6 (2020) Crystal White
Domane SL 6 Disc is a performance road bike that's both fast and comfortable. It has all the road-smoothing advantages of a lightweight OCLV Carbon frame with Front and Rear IsoSpeed, a full Shimano Ultegra drive train, high-quality wheels and hydraulic d
Domane SL 6 Disc is a performance road bike that's both fast and comfortable. It has all the road-smoothing advantages of a lightweight OCLV Carbon frame with Front and Rear IsoSpeed, a full Shimano Ultegra drive train, high-quality wheels and hydraulic disc brakes for confidence and braking power in any conditions. Plus, it has an easy-access storage compartment for stowing ride essentials.
It's right for you if...
Quality, comfort, speed and adventure are your main considerations. You want a lightweight carbon bike that will stand up to the rigours of all-day rides and races, with the road-smoothing benefit of wide tyres and Front and Rear IsoSpeed, plus the all-weather stopping power of hydraulic disc brakes.
The tech you get
A 500 Series OCLV Carbon frame with road-smoothing Front and Rear IsoSpeed, a stable Endurance Geometry for comfort on the longest days, powerful flat-mount disc brakes and a full 2x11 Shimano Ultegra group set. Plus, Bontrager Paradigm Comp Tubeless Ready wheels with 700x32 tyres for confidence and compliance, a fatigue-reducing Bontrager Elite IsoZone handlebar a micro-adjust seat mast and mudguard mounts. Internal storage and cable routing add to the bike's capability and sleek look.
The final word
All the road-smoothing benefits of a carbon Domane, with a more performance-oriented Shimano Ultegra group set and the extra stopping power of hydraulic disc brakes. This bike is fast, light, smooth and ready for adventure.
Why you'll love it
Domane SL 6 Disc is an outstanding all-around road bike: race-worthy spec, a lightweight carbon frame and Front and Rear IsoSpeed that soaks up fatiguing bumps so you can stay stronger longer
The unique IsoSpeed Carbon fork, which swoops forward toward the dropouts, absorbs vibrations from the road so your arms won't fatigue as quickly
A sleek internal storage compartment gives you a versatile spot to stow tools and gear
Tubeless Ready Bontrager Paradigm wheels deliver extra confidence and comfort on long, fast rides
The stable Endurance Geometry is comfortable over long distances, but this is still a quick racing bike
The smooth advantage
Front and Rear IsoSpeed soak up fatiguing bumps in the road so you can stay stronger longer.
Massive tyre clearance
Domane can fit tyres up to 38c wide for fast, confident riding on the roughest roads.
A frame-integrated storage compartment gives you a versatile spot to stow tools and gear.
Faster than ever
Design elements like hidden cables and aerodynamic tube shaping give you free speed.
More choice for all genders
We believe every rider – regardless of gender, body type, riding style or ability – deserves a great bike. One that gets you excited to hop in the saddle and ride. A bike that makes you want to go faster and further than ever before. A bike that feels like it was made just for you. Because it was. Trek is introducing the new 2020 Domane to give better fits and more options to female and male riders alike. Historically, we've offered smaller frame sizes geared towards women on women's models exclusively. We're now offering smaller sizes and more colourways on every single 2020 Domane SLR, SL. A smaller rider, no matter their gender, can now choose from every model we offer in these performance lines. There is no specific women's offering for these bikes. They're all women's bikes. They're all men's bikes. Why are we doing this? To give more fit and colour options to all riders, regardless of gender or size.