Your local Bike Shop

Family Owned

Family Run

Selling fun since 1982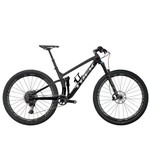 Your Local Bike Shop

Family Owned

Family Run

Selling Fun for 25 Years

Personalised Service

Unbeatable Prices
Trek Fuel EX 9.7 (2021) Matte Raw Carbon/Gloss Trek Black
Fuel EX 9.7 is a full suspension carbon trail bike with performance tech where it makes the biggest difference. It pairs a lightweight OCLV Mountain Carbon frame, quality FOX suspension, and powerful 4-piston brakes to make a fast, fun mountain bike that
Fuel EX 9.7 is a full suspension carbon trail bike with performance tech where it makes the biggest difference. It pairs a lightweight OCLV Mountain Carbon frame, quality FOX suspension, and powerful 4-piston brakes to make a fast, fun mountain bike that can carve around corners, weave through tricky descents, and charge through rock gardens with ease.
It's right for you if...
You want a single carbon trail bike that can take on every adventure, from singletrack to the gnarliest descents and multi-stage endurance events. You prioritize a lightweight frame and performance suspension over the highest-end drivetrain available.
The tech you get
A lightweight and stiff full OCLV Mountain Carbon frame with Carbon Armor, a 140mm FOX Rhythm 34 fork, 130mm of rear travel with a FOX Float Performance rear shock with Trek's exclusive RE:aktiv damper, a wide-range 1x12 SRAM NX/GX Eagle drivetrain, a Bontrager Line dropper post, Tubeless Ready Bontrager Line Comp 30 wheels, and powerful Shimano 4-piston hydraulic disc brakes. An internal storage compartment and Control Freak cable routing add to the bike's capability and sleek look.
The final word
Fuel EX full suspension performance on a lightweight and trail-tough carbon frame makes for a fun and fast ride. This rugged, capable bike sails down descents and helps you hang tough during fatiguing marathon rides.
See it in action
Why you'll love it
Don't confuse Fuel EX 9.7 with other value carbon models on the market—this bike provides an outstanding frame and suspension, with a workhorse drivetrain and wheels
A sleek internal storage compartment gives you a versatile spot to stow tools and gear
This bike is perfect for shredding singletrack, hitting drops, and pushing your limits in multi-stage and marathon events
 The shifter-style, underbar remote dropper post lever is super intuitive and easy to use
We expanded our size range to ensure a better fit for all riders. And, you get the fastest wheel that fits your frame: XS frames get 27.5˝ wheels, S frames get to choose between 27.5˝ or 29˝, and sizes M to XL get 29˝ wheels
Specifications
*spec applies to all sizes unless otherwise noted
We reserve the right to make changes to the product information contained on this site at any time without notice, including with respect to equipment, specifications, models, colors, and materials.
Bike and frame weights are based off Trek pre-production painted frames at time of publication. Weights may vary in final production.
Sizing & fit
The charts below show our recommended sizes based on height, but there are some other factors, like arm and leg length, that determine a great fit. That's why you'll see some overlap in our recommendations. Not every rider who's 5´8˝, for example, will fit on the same size bike. The best way to find your perfect fit is to consult the experts at your local Trek retailer.
XS
137.0 - 155.0 cm
4'5.9" - 5'1.0"
64.0 - 73.0 cm
25.2" - 28.7"
S
153.0 - 166.5 cm
5'0.2" - 5'5.6"
72.0 - 79.0 cm
28.3" - 31.1"
M
161.0 - 172.0 cm
5'3.4" - 5'7.7"
76.0 - 81.0 cm
29.9" - 31.9"
M/L
165.5 - 179.0 cm
5'5.2" - 5'10.5"
77.0 - 84.0 cm
30.3" - 33.1"
L
177.0 - 188.0 cm
5'9.7" - 6'2.0"
83.0 - 88.0 cm
32.7" - 34.6"
XL
186.0 - 196.0 cm
6'1.2" - 6'5.2"
87.0 - 92.0 cm
34.3" - 36.2"
All measurements provided in cm unless otherwise noted.
Frame size number
Frame size letter
Geometry position
Wheel size

A — 

Seat tube

B — 

Seat tube angle

C — 

Head tube length

D — 

Head angle

E — 

Effective top tube

F — 

Bottom bracket height

G — 

Bottom bracket drop

H — 

Chainstay length

I — 

Offset

J — 

Trail

K — 

Wheelbase

L — 

Standover

M — 

Frame reach

N — 

Frame stack
13.5
XS
High
27.5"
35.5
75.5°
9.0
66.5°
54.5
34.1
1.4
43.5
4.3
10.7
111.9
70.0
40.0
55.9
13.5
XS
Low
27.5"
35.6
75.0°
9.0
66.0°
55
33.5
2.1
43.7
4.3
11.1
112.0
69.5
39.5
56.3
15.5
S
High
27.5"
35.5
75.5°
10.0
66.5°
56.7
34.1
1.4
43.5
4.3
10.8
114.3
70.7
42.0
56.8
15.5
S
Low
27.5"
39.5
75.0°
10.0
66.0°
56.8
33.5
2.1
43.7
4.3
11.1
114.4
70.2
41.5
57.2
15.5
S
High
29"
39.5
75.5°
10.0
66.5°
57.7
34.6
2.8
43.5
4.3
11.5
115.3
70.7
42.0
60.5
15.5
S
Low
29"
39.5
75.0°
10.0
66.0°
57.8
33.9
3.4
43.7
4.3
11.9
115.4
70.2
41.5
60.8
17.5
M
High
29"
42.0
75.5°
10.0
66.5°
60.2
34.6
2.8
43.5
4.3
11.6
117.8
74.7
44.5
60.5
17.5
M
Low
29"
42.0
75.0°
10.0
66.0°
60.3
33.9
3.4
43.7
4.3
11.9
117.9
74.1
44.0
60.8
18.5
ML
High
29"
43.5
75.5°
10.5
66.5°
61.8
34.6
2.7
43.5
4.3
11.6
119.5
75.2
46.0
6