Your local Bike Shop

Family Owned

Family Run

Selling fun since 1982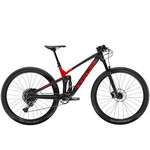 Your Local Bike Shop

Family Owned

Family Run

Selling Fun for 25 Years

Personalised Service

Unbeatable Prices
Trek Top Fuel 8 NX (2020) Matte Trek Black/Gloss Viper Red
Top Fuel 8 fuses the lightweight efficiency of a cross country bike with the capability and forgiveness of a trail bike. It's quick, nimble, and dishes out serious fun on flow trails and techy descents alike, with a 120 mm RockShox fork, 115 mm of rear tr
Top Fuel 8 fuses the lightweight efficiency of a cross country bike with the capability and forgiveness of a trail bike. It's quick, nimble, and dishes out serious fun on flow trails and techy descents alike, with a 120 mm RockShox fork, 115 mm of rear travel and a dropper post for getting low on the rough stuff. This bike is fully capable of shredding singletrack, racing gruelling endurance events and even holds its own on the XC course.
It's right for you if...
You're looking for a do-it-all full suspension mountain bike that balances efficiency with capability. You want to rip rough trails, do a couple XC races and even test yourself with an endurance or stage race.
The tech you get
A lightweight Alpha Platinum Aluminium frame, 120 mm RockShox Recon RL fork with Motion Control damper, 115 mm of rear travel with a Fox Performance Float shock and a 1x12 SRAM NX Eagle drivetrain. Plus, Shimano hydraulic disc brakes, TwistLoc dual remote suspension lockout, Bontrager Line Dropper and Tubeless Ready Bontrager Kovee Comp 23 wheels.
The final word
Top Fuel 8 is an efficient, capable and ridiculously fun short-travel full suspension trail bike. It's built to take on technical terrain, flowy XC courses and the demands of endurance mountain bike races.
Why you'll love it
This short-travel trail bike gives you a suspension set-up that's capable in several MTB disciplines, and especially suited to endurance events
TwistLoc simultaneously locks out front and rear shocks for climbs and sprints with the simple Grip Shift-like motion
Mino Link lets you make small adjustments to your geometry quickly and easily, even mid-ride
You get a Straight Shot down tube for extra stiffness in the rough and Knock Block frame defence to protect against spinning bars and fork crowns
Specifications
*spec applies to all sizes unless otherwise noted
We reserve the right to make changes to the product information contained on this site at any time without notice, including with respect to equipment, specifications, models, colors, and materials.
Bike and frame weights are based on Trek pre-production painted frames at the time of publication. Weights may vary in final production
Sizing & fit
Proper bike fit is essential for best performance and comfort. Any size and geometry measurements shown on trekbikes.com are for general comparison purposes only. To find your perfect fit, visit an authorised Trek retailer, where an expert skilled at sizing will help you find the appropriate bike and size for your individual needs.
S
153.0 - 166.5 cm
5'0.2" - 5'5.6"
72.0 - 79.0 cm
28.3" - 31.1"
M
161.0 - 172.0 cm
5'3.4" - 5'7.7"
76.0 - 81.0 cm
29.9" - 31.9"
M/L
165.5 - 179.0 cm
5'5.2" - 5'10.5"
77.0 - 84.0 cm
30.3" - 33.1"
L
177.0 - 188.0 cm
5'9.7" - 6'2.0"
83.0 - 88.0 cm
32.7" - 34.6"
XL
186.0 - 196.0 cm
6'1.2" - 6'5.2"
87.0 - 92.0 cm
34.3" - 36.2"
2XL
195.0 - 203.0 cm
6'4.8" - 6'7.9"
92.0 - 95.0 cm
36.2" - 37.4"
All measurements provided in cm unless otherwise stated.
Frame size number
Frame size letter
Geometry position

A — 

Seat tube

B — 

Seat tube angle
Effective seat tube angle

C — 

Head tube length

D — 

Head angle

E — 

Effective top tube

F — 

Bottom bracket height

G — 

Bottom bracket drop

H — 

Chainstay length

I — 

Offset

J — 

Trail

K — 

Wheelbase

L — 

Standover

M — 

Frame reach

N — 

Frame stack
15.5
S
High
39.4
68.5°
75.5°
9.0
68.0°
56.3
34.3
3.0
43.4
4.4
10.3
111.7
72.0
41.0
59.0
15.5
S
Low
39.4
68.0°
75.0°
9.0
67.5°
56.4
33.7
3.6
43.5
4.4
10.7
111.7
71.5
40.5
59.4
17.5
M
High
41.9
68.5°
75.5°
9.0
68.0°
59.8
34.3
3.0
43.4
4.4
10.3
115.2
72.5
44.5
59.0
17.5
M
Low
41.9
68.0°
75.0°
9.0
67.5°
59.9
33.7
3.6
43.5
4.4
10.7
115.2
72.0
44.0
59.4
18.5
ML
High
44.5
68.5°
75.5°
9.0
68.0°
61.4
34.3
3.0
43.4
4.4
10.3
116.8
73.1
46.1
59.0
18.5
ML
Low
44.5
68.0°
75.0°
9.0
67.5°
61.5
33.7
3.6
43.5
4.4
10.7
116.8
72.5
45.6
59.4
19.5
L
High
47.0
68.5°
75.5°
10.0
68.0°
63.0
34.3
2.9
43.4
4.4
10.3
118.5
74.1
47.5
59.9
19.5
L
Low
47.0
68.0°
75.0°
10.0
67.5°
63.2
33.7
3.6
43.5
4.4
10.7
118.6
73.5
47.0
60.3
21.5
XL
High
52.1
68.5°
75.5°
11.0
68.0°
65.0
34.3
2.9
43.4
4.4
10.3
120.6
76.1
49.2