Your local Bike Shop

Family Owned

Family Run

Selling fun since 1982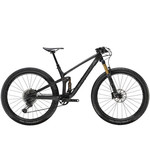 Your Local Bike Shop

Family Owned

Family Run

Selling Fun for 25 Years

Personalised Service

Unbeatable Prices
Trek Top Fuel 9.9 XX1 (2020) Matte Carbon/Gloss Trek Black
Top Fuel 9.9 is our top-of-the-line full suspension mountain bike for endurance racers and multi-discipline riders. Top Fuel 9.9 flies through singletrack and rips descents, but it really shines when pushed to its full potential during gruelling enduranc
Top Fuel 9.9 is our top-of-the-line full suspension mountain bike for endurance racers and multi-discipline riders. This down-country rig is built with an OCLV Mountain Carbon frame and spec'd to the hilt with high-performance parts, including a Fox Factory 34 Step-Cast fork, a SRAM XX1 Eagle drivetrain, carbon wheels and SRAM Level Ultimate brakes. Top Fuel 9.9 flies through singletrack and rips descents, but it really shines when pushed to its full potential during gruelling endurance races.
It's right for you if...
You've set your sights on endurance racing, and want every lightweight and performance advantage. You're looking for an efficient yet trail-capable rig that's fast on flats, soaks up rough terrain and keeps you going mile after brutal mile.
The tech you get
A full OCLV Mountain Carbon frame, top-of-the-line 120 mm Fox Factory 34 Step-Cast Float fork with GRIP damper, 115 mm of rear travel with a Fox Factory Float shock and a 1x12 SRAM XX1 Eagle drivetrain. Plus, wide carbon Bontrager Kovee Elite 30 wheels with a 108-tooth Rapid Drive hub for instant engagement, TwistLoc dual remote suspension lockout, Bontrager Line Elite Dropper, Bontrager Kovee Pro OCLV Carbon handlebars and SRAM Level Ultimate brakes with carbon levers.
The final word
The Top Fuel 9.9 is built for speed and capability on any terrain, but its efficient, short-travel design excels in endurance events. An OCLV Mountain Carbon frame, top-of-the-line suspension and carbon components come together for a nimble and insanely fun ride at any distance.
Why you'll love it
It's the ultimate endurance racing bike – light, capable and trimmed with high-performance components
Wider Kovee Pro 30 wheels provide better tyre support so you can run lower pressure and get more traction
TwistLoc simultaneously locks out front and rear shocks for climbs and sprints with the simple Grip Shift-like motion
This short-travel trail bike gives you a suspension set-up that's capable in several MTB disciplines, and especially suited to endurance events
Make it yours: it's fully customisable through Project One
Specifications
Frameset

Frame

OCLV Mountain Carbon main frame & stays, tapered head tube, Knock Block, Control Freak internal routing, Carbon Armor, magnesium rocker link, Mino Link, ABP, Boost148, 115mm travel

Front suspension

Fox Factory 34 Step-Cast, Float EVOL air spring, FIT4 2-position damper, TwistLoc remote, tapered steerer, 44mm offset , Kashima Coat, Boost110, 15mm Kabolt axle, 120mm travel

Rear suspension

Fox Factory Float, 2-position DPS damper, TwistLoc remote, Kashima Coat, tuned by Trek Suspension Lab, 190x45mm

Wheels

Wheels

Bontrager Kovee Pro 30 carbon, Tubeless Ready, 6-bolt, Boost110 front, Boost148 rear

Tyres

Bontrager XR3 Team Issue, Tubeless Ready, Inner Strength sidewall, aramid bead, 120tpi, 29x2.40"

Drivetrain

Shifters

SRAM XX1 Eagle, 12 speed

Rear derailleur

SRAM XX1 Eagle

Crank

SRAM XX1 Eagle Carbon, DUB, 32T alloy ring, Boost, carbon

Bottom bracket

SRAM DUB, 92mm, PressFit

Cassette

SRAM XG-1295 Eagle, 10-50, 12 speed

Chain

SRAM XX1 Eagle, 12 speed

Components

Saddle

Bontrager Montrose Elite, titanium rails

Seatpost

Bontrager Line Elite Dropper, internal routing, 31.6mm

Handlebar

Bontrager Kovee XXX, OCLV Carbon, 35mm, 0mm rise

Grips

SRAM TwistLoc

Stem

Bontrager Kovee Pro, 35mm, Knock Block, Blendr compatible, 0 degree

Head set

Knock Block Integrated, sealed cartridge bearing, 1-1/8" top, 1.5" bottom

Brake set

SRAM Level Ultimate hydraulic disc, carbon levers, 180mm front rotor, 160mm rear rotor

Weight

Weight

M - 11.05 kg / 24.36 lbs (with tubes)

Weight limit

This bike has a maximum total weight limit (combined weight of bicycle, rider and cargo) of 136 kg (300 lb).
Sizing & fit
Proper bike fit is essential for best performance and comfort. Any size and geometry measurements shown on trekbikes.com are for general comparison purposes only. To find your perfect fit, visit an authorised Trek retailer, where an expert skilled at sizing will help you find the appropriate bike and size for your individual needs.
S
153.0 - 162.0 cm
5'0.2" - 5'3.8"
72.0 - 76.0 cm
28.3" - 29.9"
M
161.0 - 172.0 cm
5'3.4" - 5'7.7"
76.0 - 81.0 cm
29.9" - 31.9"
M/L
170.0 - 179.0 cm
5'6.9" - 5'10.5"
80.0 - 84.0 cm
31.5" - 33.1"
L
177.0 - 188.0 cm
5'9.7" - 6'2.0"
83.0 - 88.0 cm
32.7" - 34.6"
XL
186.0 - 196.0 cm
6'1.2" - 6'5.2"
87.0 - 92.0 cm
34.3" - 36.2"
All measurements provided in cm unless otherwise stated.
Frame size number
Frame size letter
Geometry position

A — 

Seat tube

B — 

Seat tube angle
Effective seat tube angle

C — 

Head tube length

D — 

Head angle

E — 

Effective top tube

F — 

Bottom bracket height

G — 

Bottom bracket drop

H — 

Chainstay length

I — 

Offset

J — 

Trail

K — 

Wheelbase

L — 

Standover

M — 

Frame reach

N — 

Frame stack
Stem length
17.5
M
High
41.9
68.5°
75.5°
9.0
68.0°
59.8
34.3
3.0
43.4
4.4
10.3
115.2
73.5
44.5
59.0
6.0
17.5
M
Low
41.9
68.0°
75.0°
9.0
67.5°
59.9
33.7
3.6
43.5
4.4
10.7
115.2
73.0
44.0
59.4
6.0
18.5
ML
High
44.5
68.5°
75.5°
9.0
68.0°
61.4
34.3
3.0
43.4
4.4
10.3
116.8
74.1
46.1
59.0
6.0
18.5
ML
Low
44.5
68.0°
75.0°
9.0
67.5°
61.5
33.7
3.6
43.5
4.4
10.7
116.8
73.5
45.6
59.4
6.0
19.5
L
High
47.0
68.5°
75.5°
10.0
68.0°
63.0
34.3
2.9
43.4
4.4
10.3
118.5
75.1
47.5
59.9
7.0
19.5
L
Low
47.0
68.0°
75.0°
10.0
67.5°
63.2
33.7
3.6
43.5
4.4
10.7
118.6
74.5
47.0
60.3
7.0
21.5
XL
High
52.1
68.5°
75.5°
11.0
68.0°
65.0
34.3
2.9
43.4
4.4
10.3
120.6
77.1
49.2
60.8
7.0
21.5
XL
Low
52.1
68.0°
75.0°
11.0
67.5°
65.1
33.7
3.6
43.5
4.4
10.7
120.7
76.5
48.7
61.2
7.0